STuFF is comprised of a motley crew of…well, we'll all just speak for ourselves.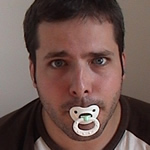 Ethan Aronoff
Ethan Aronoff enjoys writing about himself in the third person and make it look like someone else is talking about him. Not much is known about Ethan's early life. A native Manhattanite, his childhood was principally occupied with topiary and smiling cutely while licking out the empties at his parents' parties. Ethan Aronoff has thus far received unanimous critical praise for both his serious drama, improv, and avant garde performances in the New York theater world as well as independent film and television roles. A graduate of Stella Adler and New York University, please treat him with respect and courtesy, because that last sentence cost him nearly $100,000.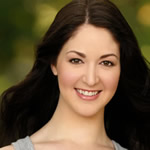 Diana Cherkas
When not being sexualized in a sketch or while walking down the street, Diana is curled up under a blanket with her new husband and their two cats, Squeakers and Stinky Stinky Hobo Cat. She's been in movie theaters twice so far this year with the independent films, Anything for You and Modern Love is Automatic. Google her, it's fun. Oh yeah, and check out www.dianacherkas.com or fan her on Facebook or follow Diana at www.twitter.com/DianaCherkas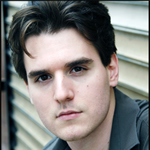 Charlie Coniglio
Charlie Coniglio was born following an extremely difficult labor, permanently damaging his mother's bladder in the process, for which she has never forgiven him. Since then, he has gone on to perform in a wide range of New York and regional theater, with leading roles in such productions as Taming of the Shrew (King's County Shakespeare), The Clearing (Phoenix Players/ATA), Glengarry Glen Ross (Stella Adler Theatre) and Einstein's Dreams (Aporia Players/NYC Fringe Festival). Most recently, he was seen in HERE's annual One-Minute Play Festival, in which he spoke quite loudly and waved his arms about for emphasis. In his spare time, he plays accordion, studies particle physics and considers having a salad.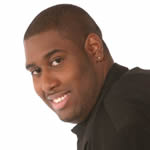 Raymond Cordova
Raymond Cordova is an actor/comedian born and raised in Queens, NY. Having trained at different acting schools, done tons of student films and found little success, he stumbled upon improv at the UCB Theatre. You can catch him every last Friday of the month at THE PIT with his improv team Nobody's Token. He's also been seen in various online sketches with UCBComedy.com. He's very proud to be the only black and latino guy on the team thereby fulfilling two important non-profit requirements for STuFF. OH right, Jnony is Black, too..fuck!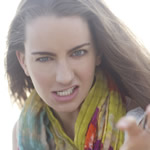 Jessica DiGiovanni
Jessica grew up in the south suburbs of Chicago with an affinity for poop jokes and dancing to The New Kids on the Block concerts on TV while using her My Little Pony sleeping bag as a dress. Surprisingly today she is a somewhat sane actor who currently resides in NYC. Jessica has studied theatre performance all over the world: Fordham University Lincoln Center, LAMDA, The Moscow Art Theatre and NYU Paris Study Abroad. Recent Film and TV credits include: The Sitter (Dir. David Gordon Green), What Would You Do? (ABC Primetime News), Dreams of a Petrified Head (Dir. Dan Ouelette), Amy (Dir. R.P. Patnaik), Celebrity Ghost Stories (Biography Channel), The Collector (Dir. Ezequiel Arribas) Recent Theatre credits: Close Up Space staged reading at the Eugene O'Neill Theatre Center (Dir. Sheryl Kaller), Marion Bridge at The Director"s Company (Dir. Laila Robins). Jessica can be seen in the FlatRate Moving commercial currently running on both coasts. As a natural philanthropist, Jessica's mission is to spread the joy of poop jokes across planet earth. You can see more about Jessica Here! www.jessicadigiovanni.com and here! http://www.imdb.com/name/nm3693977/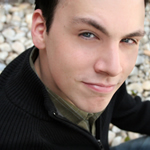 Griffin DuBois
Griffin DuBois is an actor, writer, and general contributor to Stuff Films when he's not acting, writing, and generally contributing to the fabric of society. A native of the Hudson Valley in upstate New York, Griffin has spent the past few years putting his state college Bachelor's degree to work here in NYC. A regular at the Manhattan Children's Theatre and various summer Shakespeare productions, Griffin also takes classes and performs at the Upright Citizens Brigade Theatre.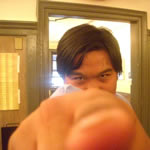 Jonathan "Gonzo" Galvez
Jonathan "Gonzo" Galvez is an actor, playwright, director, teacher, and surrealist raconteur from NJ. He is often seen sitting, standing, lying down, or doing a random yoga pose. Currently, you can see his play The Girl With Her Hands in the Sand at the 2012 NY Int'l Fringe Festival. His other produced pieces as a playwright have included Thirty Minutes or Less in the 2009 NY Int'l Fringe Festival, Crossing Lights at the Manhattan Repertory Theatre, and has had his one-acts premiere in The Shortened Attention Span festivals, Sundog Theatre's Scenes from the Staten Island Ferry, and the Strawberry One-Act Festival. He buys new underwear every June. He was a featured contestant (and winner!) on the hit internet gameshow Red Carpet Run by Avignon Bound Media. He one day plans to own Denmark. He also Co-founded and is the Artist-In-Residence for Theatrical Gems, a non-profit group aimed at presenting lost theatre classics of the past and unknown theatre classics of the future. He earned the nickname Gonzo after a tragic accident with a taffy puller. He received his B.A. in Theatre Education from Wagner College and is a M.F.A. Candidate for Playwrighting at Hollins University. He is a member of the Dramatists Guild and was told there would be cake and pie involved. He has yet to see any cake and pie.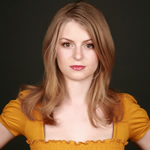 Joya Mia Italiano
Joya Mia Italiano is one of the few non-hipster AND non-lesbian graduates of Sarah Lawrence College, if you can believe it. While a student, Joya studied theater, comedy, and attempted to stop being a fake Italian by actually going to study commedia dell'arte in Arezzo, Italy. A native of Denver, Coloradey, she made her New York City debut last year in John Patrick Shanley's Psychopathia Sexualis, at the 45th Street Theater. She has appeared in numerous productions since, including Six Seeds: The Persephone Project, which has been curated by The Tank, as well as the International Cringe Festival, in which she convinced a guy to rub chicken salad all over his junk, which, as an actor, is its own reward. Currently, she can be seen playing John Connor in Terminator Too: Judgement Play at the…well just click here. She is delighted to be a member of STuFF FiLMs, but is flustered about having to remember how to spell STuFF FiLMs. It took her three tries to get the capitalization right just now.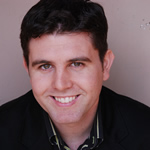 Joshua Key-Maginnis
Joshua Key-Maginnis originally hails from South Portland, Maine. Yes, Maine. Yes, we have electricity. No we don't poop in outhouses. Yes, we have great lobster. Stop asking him these questions if you want to live. He graduated from Wagner College with a BA in Theater (what does it mean?) and has trained with the likes of B.T. McMichael, Roberta Reardon, and Robby Benson. He was trained in improv by the lovely people at Magnet Theater, and is a member of Red Tie Mafia. He loves everything about Stufffilms. He also loves his super supportive girlfriend, friends, family, and San Dimas.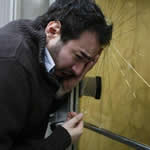 Jared Miller
Jared Miller studied Shakespeare at the British American Drama Academy in Oxford, England under the tutelage of John Barton and later learned improv and sketch comedy technique at the Upright Citizen's Brigade Theater in NYC. His first feature, Cupidity, won him a Best Supporting Actor Award at the NY Independent International Film & Video Festival in 2003. TV credits include recurring roles on LAW & ORDER and ONE LIFE TO LIVE and the pilot ACTING CLASS. Other credits include: LIFE ON MARS and GUIDING LIGHT. You can also see him perform as Emeril Legasse at www.bestemeril.com and hear his voice in Grand Theft Auto IV. Off-Broadway: Tony N' Tina's Wedding; Desert Sunrise Regional Theater: I Hate Hamlet (Cortland Rep); The Balkan Women (Bristol Riverside); Dealer's Choice (Vox/Walnut St. Theatre); Off-Off Broadway: Authenticating Eileen (TheaterLAB/Tin Lily) in which he co-wrote; Beyond Therapy (Friends-In-Theatre); Three Years from "Thirty" (Pantheon). At the New York Musical Theater Festival's (nymf.org) 2010 production of The Most Ridiculous Thing That Ever Hoid as "Chico Marx" at Urban Stages, the cast won the Best Ensemble Acting Award. As director and producer of the pilot STuFF HaPPeNS coming out summer 2012, he is quite proud of the hard work the cast and crew has put into this year-long project. Check out his full resume at www.sag.org/iactor/jaredmiller or follow him at twitter.com/thejaredmiller. He is also trying to make a living as the Director of Operations and Production at Orphmedia , an interactive digital media agency right smack in the middle of NYC working on branded entertainment and corporate websites for restaurants, online stores and entertainers. He is currently tolerated by his wife Sara and their Tibetan Spaniel, Lady Lucky Oui-si the Empress of Harlem.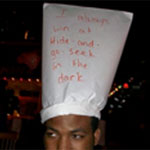 Jonathan "Jnonymous" Murray
Conceived, so scholars claim, when a burst of solar radiation hit a TV antenna and produced a surge of electromagnetism that jump-started parthenogenesis in his virgin mother, Jnony was born with the innate ability to turn creative thought into tangible media. After learning of others before him with the same uncanny talents, he studied their teachings and eventually began training at the Temple of UCB, where he hones his skills to this very day. Jnony is still young, mostly inexperienced, but it is his hope to one day become powerful enough to save the world from those that would use their gifts for evil. 'Yeah, I'm looking at you, Steph Meyer.'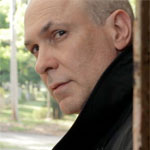 Roget Williams
"As near as we can figure, "Roget Williams" has no real past. He simply showed up at a meeting one day saying he worked as a playwright, screenwriter, script doctor, and stand-up comic in NYC and that he wanted to write sketches. It was a rocky start, his first 30 sketches were about Hitler. Everyone thought he was someone else's friend but his sketches are funny and frankly, he won't leave. Oh and we saw him answer to "Dick Whitman" once. He also said writers should be read and not seen which is why he doesn't have a headshot. Someone took this picture as he was leaving from a show at Caroline's. He denies it's him. He's also performed at Comic Strip Live, Eastville Comedy Club, The Comedy Cellar, and The Gotham Comedy Club. Producer's Note: It's possible he's wanted for crimes against humanity in some Eastern European country. The guy's got no fingerprints..it's creepy. Seriously, if something happens to one of us in STuFF…I would question Roget first. Just saying.
Always looking for new talent, STuFF FiLMS makes a concerted effort to exploit as many people as possible. Sometimes we exploit twice a day depending on our caffeine intake.